If you look at the beginning years of an artist's life, you will see how it is very much like an elongated juggling act. The focus on the dream hangs in right in the front of the eyes while the artist manages the requirements and expectations of real life. Anila Nachnaney too juggled with her dance practices, and recitals along with her family's expectations. Its been a struggle but all worth it as tears of pain and happiness finally blended in with the sweat after severe hardships.
In 1971, Anila was invited to join the Youth Exchange Programme in Japan to perform in Tokyo, Nagoya, Osaka and Kyoto. 'The Land Of The Rising Sun' proved auspicious which then took her to a whole new crest.
Her performances at Ordnance Factory at Amarnath, at Ulhasnagar in honour of Admiral Tahiliani, at National Defence Academy Army camp at Khadakwasla and few more by South Central Zone Cultural Centre (Nagpur) gained her recognition amongst the ranked cadre of the society.
In 1975, she performed for Indian Ladies Club and also gave a fund-raising programme by National Women's Society, Nigeria with Institute of International Affairs in Lagos. She then moved on to recitals at the Bharatiya Vidya Bhavan, London. She travelled to Ghana, where she presented at the Legon University, climaxing her performance at the Indian High Commission in Accra.
Two years later, Anila was invited to Stockholm, Sweden, to participate in the 'India Week' celebrations. The combined association of Swedes, Indians and Kulturhuset of Stockholm arranged a special programme of her Kathak recital due to 'public demand'.
Hoping & Jumping - or rather dancing - from one place to another was an easy affair for Anila; she gave stunning performances in Oslo, Copenhagen, Amsterdam and Luxembourg on her way back to India. In Luxembourg, one of her admirers suggested her a change in her career name, i.e. from Anila Nachnaney to Anila Sunder, because 'Sunder' means beautiful and justifies her personality. And so she did!
In 1977, she was invited to participate in the Festival of Dance and Music in Teheran, Iran. Her fame began to radiate far and wide alongside the Western Asia.
She was privileged to deliver over 200 shows across 10,000 international tourists by Maharashtra Tourism Development Corporation. She judged dance competitions held by IIT, Jai-Hind College, Prem Puri Ashram, St. Xavier's college and others.
Returning to Mumbai, she gained a lot of ground with her exquisite performances under the auspices of various organizations. With graceful grammar and pleasing aesthetics, Anila Sunder reflected sincerity to classicism. In 1998, 2000, 2002 and in 2004, she left her 'Footprints In The Waters Of Sindhu River' at the Sindhu Darshan festival in Leh, Ladakh.
Here she performed in presence of Honourable Prime Minister of India, Shri.Atal Bihari Vajpayee and the Home Minister, Shri.Lal Krishan Advani along with other public figures.
Anila Sunder was invited to perform at the 6th and 7th Sindhi Sammelan at Orlando in 1999 and at Chicago in 2000 for which she trained and presented the local artistes in her ballets demonstrating that "Sindhis in any part of the world, even though away from their motherland, can perform as one for their native soil". The Sammelan was organized by Alliance of Sindhi Associations of Americas and supported by Walt Disney. It attempted to connect all Sindhis of all ages and retain Sindhi Culture and Heritage. She trained and performed with artists in New York for LISA (Long Island Sindhi Association) where she was covered on iTV too, and in Sint Maarten at Caribbean islands wherein she presented the history of Sindh.
Her performances have been in august presence of Padma Vibhushan Kishan Maharaj in Varanasi, Sushma Swaraj in New Delhi, at Kurukshetra for Gita Jayanti Utsav, His Excellency Shri.Trivedi (ex-Governor of Gujarat) in Ahmedabad, at 100th year of Gwalior Vyapar Mela, by Indira Gandhi Rashtriya Manav Sangrahalaya in Bhopal, for Baisakhi Utsav in Chandigarh, by Jaipur Nagar Nigam, at Surajkund Crafts Mela in Haryana, that got her to showcase her art in all parts of the country. Her memorable performance has been at Sindhi-Sammellan in Ahmedabad in presence of honourable P.M. of India-Narendra Modi. She conducted workshops in New Delhi for NCPSL, Patiala for NZCC, Bairagarh for Madhya Pradesh Academy, Raipur and Rajnandgaon for Chhatisgarh Academy, Ahmedabad for Sindhu Bhavan Trust and Gandhidham for Indian Institute of Sindhology. She also performed in New Delhi at World Book Fair 2016 by National Book Trust.
One city who wanted to see more and more of her and she too succeeded in coming out with her best again and again, was the city of Dubai, UAE. She has performed here innumerably, the most memorable being the India Fest celebrations to mark the Golden Jubilee of India's Independence in 1997.
She has choreographed and presented dances based on the poems from Noori Granth penned by Dada T.L. Vaswani and some other rhymes by Dada J.P. Vaswani, Pune for his birthday celebrations. She also gave some charitable performances for Brahma Kumaris in Mount Abu, for Shadani Darbar in Hinglaj-pilgrimage in Balochistan and Hayat Pitafi temple in Pakistan. She has has been fortunate to perform in Sindh within Karachi, Mirpur Mathelo and Hyderabad. Prisoners deserve entertainment too and so Anila was invited by the Office of The Superintendent Central Jail, Jodhpur, Govt. Of Rajasthan to perform with her troupe. She presented a Republic Day float in collaboration with IndusInd Bank Ltd. and organised by Priyadarshini Academy depicting aspects of Indus Valley Civilization on India Tourism Day. She gave a charity show for building Shri Paramhans Charitable Cancer Hospital And Research Center, Jabalpur.
Her awards have been countless but some that deserve to be mentioned are Suvidha Award and Sahyog Award. She adorned magazines like Paanch Janya, Femina, and leading newspapers like The Times of India, Dainik Bhaskar, Navbharat Times, Maharashtra Times and many more. She was member of Regional Selection Committee (RSC) under Cultural Talent Search Scholarship Scheme implemented by CCRT, Govt. of India. Anila Sunder is the first proud recipient of a grant from National Council for Promotion of Sindhi Language, Ministry of HRD (Govt. of India) for creating a ballet depicting different Facets of a Woman.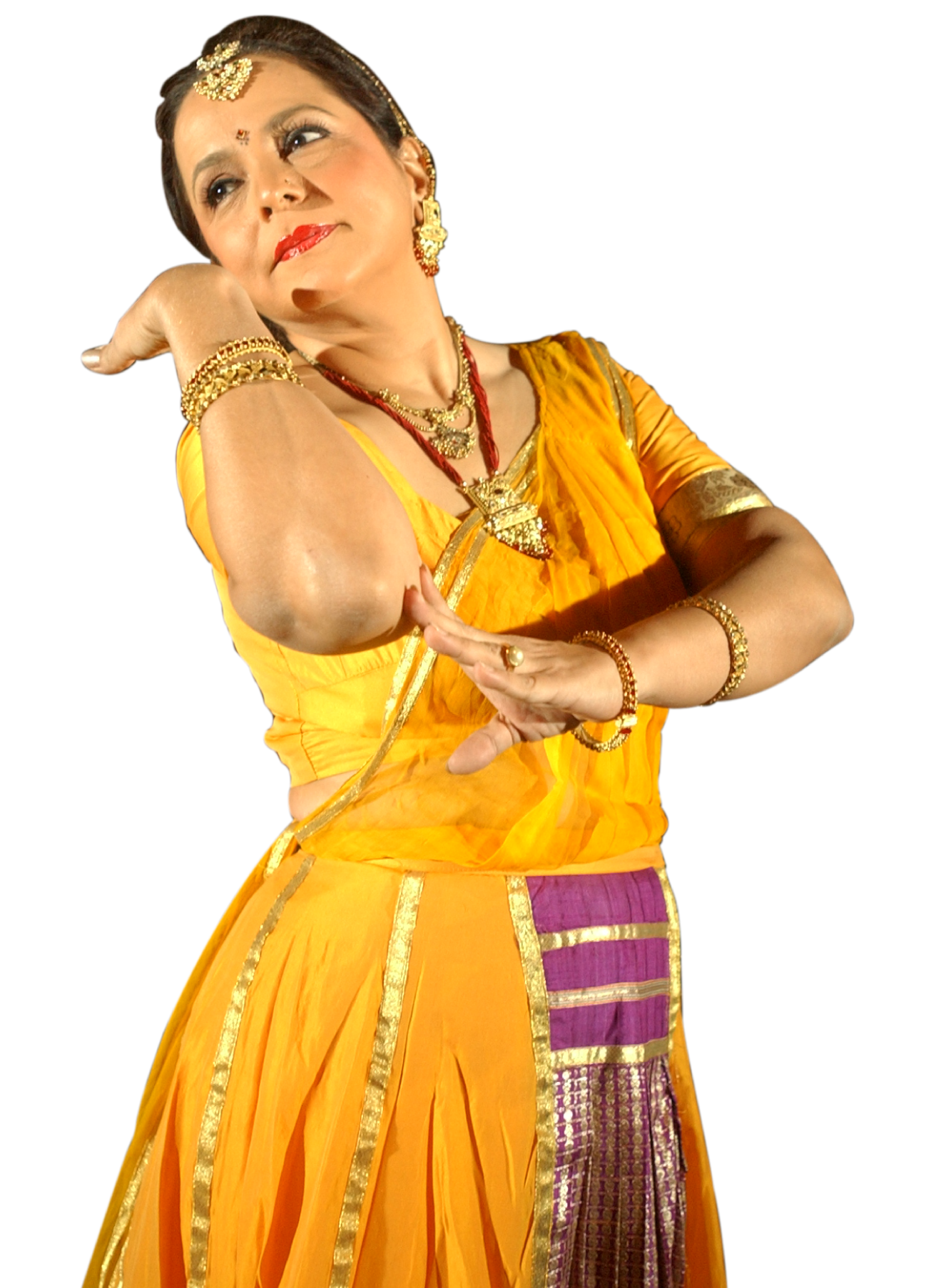 Odissi, Her Next Step
Poise cannot be taught. It is a question of personality, of one's own values and traditions and of a cultivated lifestyle. This natural sophistication and elite glow, which comes from an inimitable approach, took Anila towards the television too.
Moving on with the dance journey, she bagged another milestone by learning Odissi from Guru Natbar Maharana and Guru Shankar Behra. Her love for Odissi made her create 'Geet Govind', originally written by the 12th century poet Jayadeva, which displayed the relationship between Lord Krishna and his gopikas including Radha. Her dance ballet 'Sindhu' that is based on the Indus Valley Civilization also has undertones of Odissi form of dance.
Her various modules with this medium brought in a new wave in her career with her crush with movies too in 'Jai Jhulelal' and 'Pyar Kare Dis'.